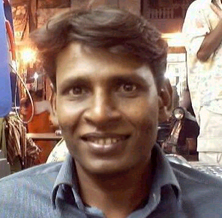 Ajeet Pal was born in 1973 in a remote village of Pabla Beg Mabad in Uttar Pradesh, India. Ajeet was born with childhood polio which left him unable to walk and in a great deal of daily pain. His father Bhule Ram and mother Khachedo Devi were simple farmers working for low daily wages for wealthy landowners in Pabla Beg Mabad. They were not able to afford bread for their six children and there was no chance of any formal education. His family was not only poor but they belong to a cast of untouchables who for generations have been the victims of racial prejudice and exploitation of the Indian social system.

At the age of 10 Ajeet ran away from his desperate situation in Pabla Beg Mabad stowing away on a train that landed him in the Paharganj neighborhood in Old Delhi. Ajeet went several days without eating and was continually refused employment because of the braces on his legs and the cane he used to support himself. He slept on the street and was taken in by a group of beggars who gave him enough food to regain his strength. Reluctantly he started to beg for a living. After four months he learned to walk without his aides mainly by staying next to walls and falling against them for support.

Finally Ajeet got a job washing dishes in a teastand. He was making five rupees a day (twenty cents) but was able to save enough money to buy new clothes. Ajeet was intrigued by the foreign tourists roaming Paharganj, but not knowing any English, he couldn't communicate with them. Instead of giving up Ajeet bought an English text book and taught himself the language. He spent hours on the street speaking with European tourists until his English was good enough to use for employment. He upgraded himself from a utility cleaner to a salesman. Not only did he succeed in selling the crafts, but he also spent hours with the artisans until he could manufacture candles, clothing and jewelry. Eventually he learned the nuances of the export business and grinds out a living on the competitive Indian export industry.

Ajeet no longer sees any of the beggars he used to live with. He fears that most of them are either dead or living horrible lives as drug dealers and prostitutes. Knowing what these people had done for him he, along with his new friend, Tom Haig, have started the Ajeet Pal Foundation to provide the dignity that learning a trade can give to those who never thought it possible.